Help Us Build A New Microbiology Teaching Laboratory
The University of Florida has one of the largest microbiology programs in the country. Our microbiology lab courses are taken by undergraduate students across 41 different majors, and student demand far exceeds capacity. The addition of a new teaching laboratory would allow us to meet this growing need to prepare more future leaders in microbiology and health.

The new lab classroom will have seating for 72 students in groups of four, an arrangement better suited to collaboration than traditional rows. The increased capacity would let us add about 30 new sections to courses including MCB 2000L, which is taken by nursing and non-stem students and which fills quickly with no advertising, and MCB 3020L, which is designed for non-microbiology science majors.
This teaching laboratory will connect to the existing microbiology building and include a preparation/storage room. Construction is estimated at $4,000,000.
Ways to Give
Give online by clicking here.
Donations can be made by check (made payable to the UF Foundation, Inc., memo: Microbiology Lab) sent to UF/IFAS Advancement, P.O. Box 110170, Gainesville, FL 32611.
We accept gifts pledged over five years, as well as estate gifts, IRA rollovers, stocks and securities, donor advised fund gifts, and more. The UF Foundation, Inc. is a 501(c)3 non-profit. Your gift may be eligible for charitable income tax deduction.
Naming Opportunities
The following naming opportunities are available:
Lab Island (18 available): $15,000 ea.
Lobby: $100,000
Existing classrooms: $100,000 ea.
Prep Room: $300,000
Teaching Laboratory: $750,000
All facility namings are subject to approval by the University of Florida Board of Trustees. Naming duration is considered 50 years or the useful life of the space. Please contact Cody Helmer if interested.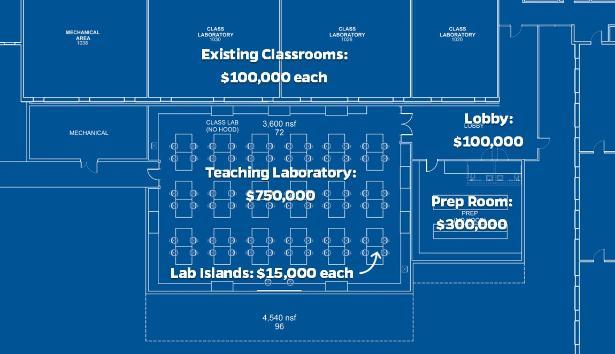 Thank You
Thank you for your consideration. For more information, please contact Cody Helmer at chelmer@ufl.edu or (352) 392-5457.